A Guide to Kitchen Costs
One of the first questions new kitchen customers want to know when they call into our showroom is : How much does a new kitchen cost? Although this a very difficult question to answer, I will try my best here to explain some general pricing guidelines in A Guide to Kitchen Costs.
The purchase of a new kitchen is much like the purchase of a new car or even a new home. With so many options available, price ranges can vary drastically. Just as a Ford Fiesta can start around £16K with just a basic package. It can quickly cost over £24K once the shopper adds such items as leather seats, heated seats, chrome finishes, 4 wheel drive, 5 doors versus 3, upgraded wheels, dual exhausts, built in GPS etc.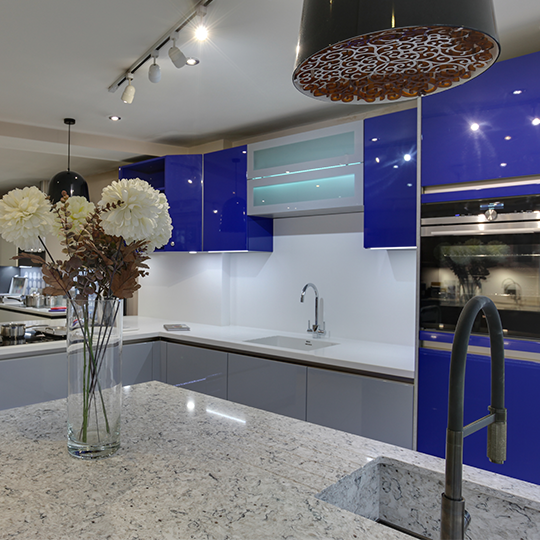 Considering that the average consumer in this country sells or trades in their car within the first five years of purchase, why do so many people elect to get so many upgrades? The answer is that most people understand the importance of getting what they want the first time so as to not have any regrets down the road. Because most people spend over 30 minutes a day in their cars, they want to make sure their car will provide them with comfort, quality, longevity and ease of use.
The same principles typically apply to most new kitchen customers.
You are going to see and live in your new kitchen every day for as long as you live in your home, and picking the right kitchen with the right options the first time is critical to ensure maximum enjoyment with minimum maintenance and longevity. Because of this, most customers elect to choose the kitchen that will make them happiest in the long run.
Unfortunately, some people only focus on the initial price of the new kitchen with the goal of finding the cheapest supplier, therefore sacrificing aesthetics, design, quality, longevity, service and warranty, which inevitably leads to regret – especially considering that unlike a new car, a new kitchen cannot be traded in if you are dissatisfied and disenchanted.
A Guide to Kitchen Costs